Quayle's Brewery
a Cycling stop on the trail
Quayle's Brewery is on several cycling routes around Simcoe County
Come join us for a delicious meal on our spacious outdoor patio, beer garden,
or inside our historical recreated Musical Barn.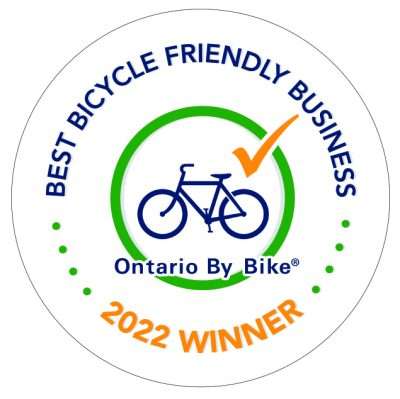 Congratulations to the 2022 "Best Bicycle Friendly Businesses"in Ontario
Best Bicycle Friendly Business
"Congratulations to the 2022 "Best Bicycle Friendly Businesses" in Ontario. Just announced are the winners selected from the over 1,550 certified bicycle friendly locations in Ontario, who excel at providing services and welcome to cyclists visit their locations as well as support cycling within their community."
Hills of Oro-Medonte
On-Road Route
Difficulty: Advanced
Length: 92 km
Start: 4th Line and Bass Lake Sideroad
This tour through Oro-Medonte is both challenging and beautiful. This route begins on the quiet Bass Lake Sideroad, but don't get comfortable, because once you turn left on the 7th line the hills begin. Riders can test themselves against some of our largest and longest climbs, including the Eady Stairs! For a rest, stop in the town of Moonstone for a quick snack before descending Moonstone Road, towards the 10th Line. Hills of Oro-Medonte is designed for recreational and avid cyclists looking to test their abilities, with challenging hills and long descents throughout the entire route.
Coldwater Course
On-Road Route
Difficulty: Moderate/Advanced
Length: 50 km
Start: ODAS Park/Fairgrounds
The Coldwater course is perfect for those riders looking for rolling terrain, challenging climbs, with plenty of stops along the way. Ride beside Bass Lake
and enjoy the view of the water before passing through Marchmont on route to Coldwater. Stop for a bite to eat in Coldwater or learn about Coldwater's
History at the Heritage Museum or Historic Mill before setting out to return to the Fairgrounds.
Please Note: Highway 12 receives high volumes of traffic. Please use caution when crossing.
Uhthoff Trail
Rail Trail Route
Difficulty: Easy
Length: 30 km
Start: Wilson Point Road, Division Road, Burnside Line, Coldwater Curling Club, Sturgeon Bay Road
The Uhthoff Trail is part of the Trans Canada Trail – The Great Trail. The Uhthoff Trail begins at the link to the Millennium Trail of Orillia at Wilson Point Road. The trail follows an old CPR railway line through the rural landscape of Severn Township with many scenic views along the way. The Community of Coldwater provides a rest before joining up with the Tay Shore Trail at the 400 overpass to Waubaushene. The trail is predominantly a gravel trail and an easy ride for the whole family!